Implants
Oakland Dental Implants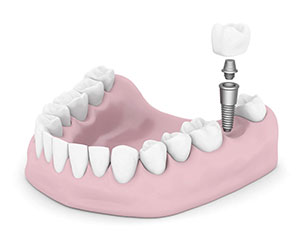 When you're missing a tooth, you feel incomplete. It may affect your confidence in professional, personal, and social situations. Our offices understand and provide swift effective solutions that can help restore your confidence and your smile.
Implant technology is the strongest method for tooth replacement. While bridges and dentures can effectively replace 
your teeth, they do not perform the same functions as a normal tooth because they are not connected to the jawbone. You could experience bone density loss in the jaw and your other teeth could be compromised.
An implant is an artificial root that helps replace the tooth more effectively. After a crown has been placed over the root, you will have a fully functioning replacement that looks and feels like a natural tooth for a permanent solution. Our staff practices the latest methods for this procedure to ensure the highest quality work possible.
Work with a professional, compassionate staff for your Elegant Smiles Dental Center dental implants procedure. Elegant Smiles Dental Center is ready to help you restore your smile. Call today to set up a consultation. We accept all insurance and all dental insurance plans, too. Emergency services are also available.
Single Tooth Implants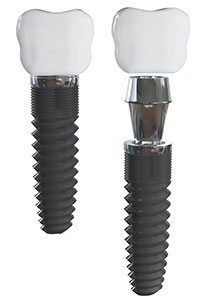 If you're missing a tooth and want the very best dentistry has to offer, you could be the perfect candidate for single-tooth 
implants. Single-tooth implants act as tooth roots for replacement teeth. They are securely anchored into the jaw and topped with a dental crown for the very best in look, feel and function. Single-tooth implants offer several advantages over other tooth replacement options, such as dental bridges and partial dentures. Surrounding teeth and the jawbone are better preserved. Single-tooth implants are also easier to clean. And they can also outlast bridges and dentures by about 10 
years!